NEHU Kicks off Vigilance Awareness Week
Date: (02/11/2017)
NEHU kicked off the Vigilance Awareness Week, 2017 with the reading of the pledge by University authorities, teachers, students and staff, in front of the V.C's office, Administrative building on November 2 at 11 am.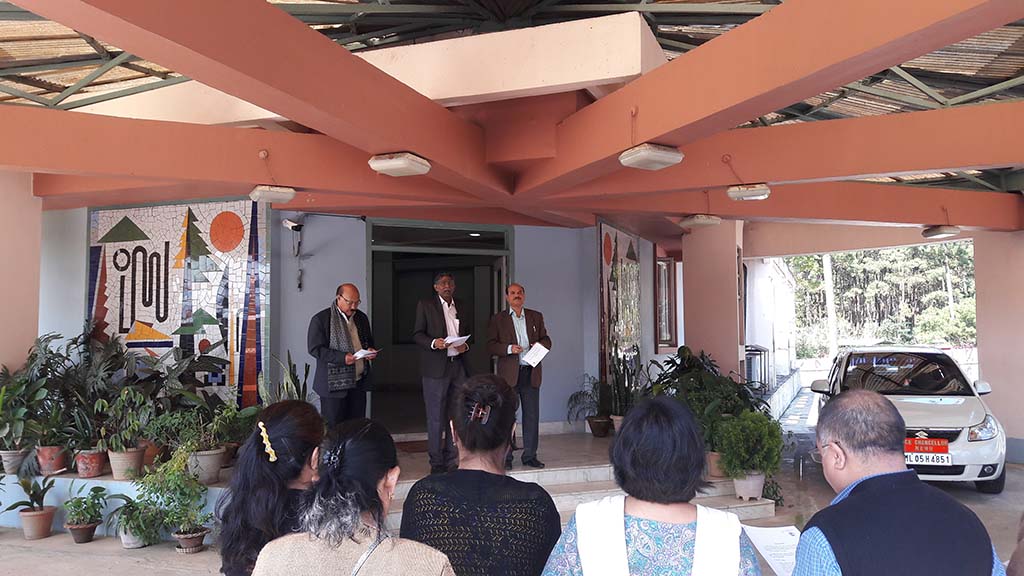 Addressing the gathering, Professor S.K. Srivastava, Vice-Chancellor, NEHU said this initiative by the Government of India is to ensure that we are highly accountable to the society. "In NEHU we are guided by the acts, statutes, regulations etc., as far as academic and administrative matters are concerned and since we are a centrally funded institute we also have to follow all the relevant financial rules from time to time as communicated to us," he added. "We need to have the highest of standards for compliance of these rules and regulations and whatever is communicated from the government we have to ensure the compliance and also report back to them. As good public servants we are doing the needful and all such initiatives ultimately ensure that each and every rupee which is given to us by the government is spent fully to the benefit of the society."
According to Pro-Vice-Chancellor, Professor Henry Lamin, poverty is the root cause of corruption and that it needs to be eradicated. "Though it is a challenging task as our country is so vast and diverse, we need to work together to eradicate it," he said. Prof. Lamin also called for cooperation among all the stakeholders to root out corruption and to spread the message of the pledge." Until and unless corruption is rooted out, we will not be able to progress. Corruption applies to so many things be it corruption of ideas, time, activities. Whatever is given to us let us utilize to the fullest for the benefit of those it is meant for. As a centre of learning we need to lead by example and spread the message," he concluded.
In his speech, Dr. J. N. Nayak, Registrar said that through this Vigilance Awareness Week, the government of India reminds us of what we are supposed to do. "Our PVC has rightly said it is not only in terms of monetary aspects, but in how we lead our lives, how we use our time. What is my contribution to the society, what is my contribution to my organization? If I'm here to work for which I'm being paid, if I'm not giving 100 per cent of myself that also means corruption. So friends, corruption does not mean only corruption or generation of money but it gives rise to something else.
"We are all government servants and since we are servants we have to serve the nation, we have to serve the society and let us serve the society in a befitting way. Let us simply take a pledge that I must do what I'm supposed to do. If I do that, I owe nothing to the society," Dr. Nayak added.
It may be mentioned that "My Vision-Corruption Free India" "has been chosen as the theme for Vigilance Awareness Week this year by the Commission. This year the week started from October 30 to November 4.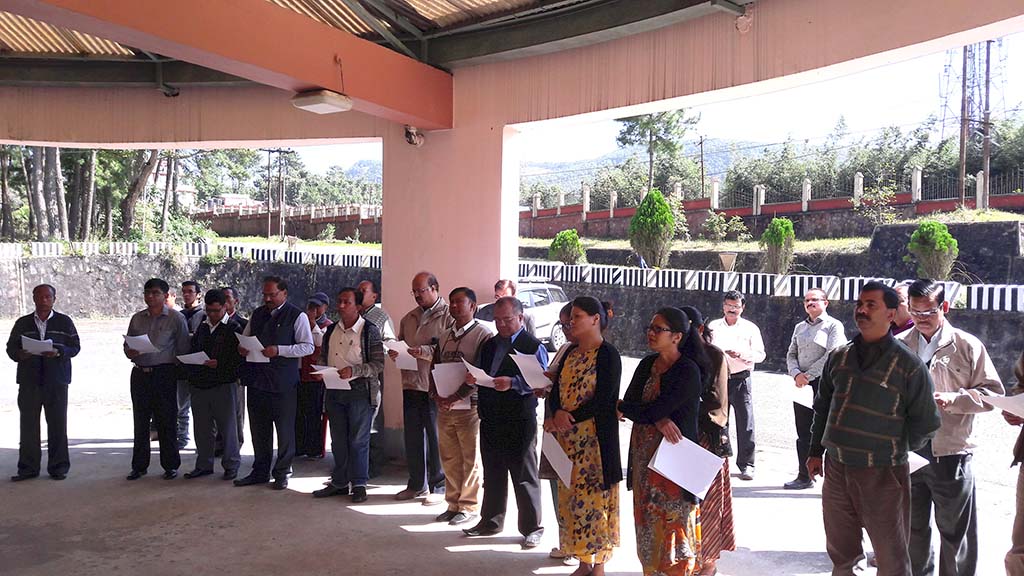 Observance of Vigilance Awareness Week every year is part of a multi-pronged approach of the Commission wherein one of the strategies is to encourage all stakeholders to collectively participate in the prevention of and the fight against corruption and to raise public awareness regarding the existence, causes and gravity of and the threat posed by corruption. The Commission as part of a multi-pronged strategy to tackle corruption has been stressing on punitive, preventive and participative vigilance measures