Get to know about our Vice-Chancellor
Prof. Prabha Shankar Shukla
Vice-Chancellor
North-Eastern Hill University,
Shillong 793 022

Phone: (0364) 2721003/2721004/2550101/ 2550074 (R)
Fax: (0364) 2550076
Email: vcnehu@nehu.ac.in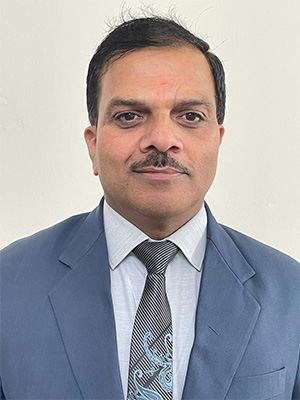 Prof. Prabha Shankar Shukla, the Vice-Chancellor of North-Eastern Hill University (NEHU), entered upon the Office of the Vice-Chancellor on 27thJuly 2021. An eminent scientist in the field of Agriculture, Prof. Shukla specialized in Seed Science and Technology and has a track record of advancing social, economic, and cultural development in various capacities. He is deeply committed to providing students with holistic education by implementing NEP 2020.
Prof. Shukla formerly held the position of Professor at the G. B. Pant University of Agriculture and Technology in Uttarakhand before appointment as Vice-Chancellor at NEHU in Shillong. He has been teaching and conducting research for more than 29 years. His responsibilities there included Teaching, Research and Extension, student affairs, and ground level societal welfare activities. He also played a significant part in the university's overall strategic leadership and direction by participating in a number of Committees.
He has published 42 research papers, 50 articles, 17 book chapters and 5 books and manuals. He has also served as the resource person and editor in 7 bulletins and journals. As a Principal/Co- Investigator, he has successfully carried out seven adhoc/extramurally-funded projects. For his outstanding contributions in the field of Agricultural sciences, Prof. Shukla has received various awards and fellowships viz. Fellow of Indian Society of Seed Technology, IARI; Effective communication in Science & Tech Award, Scientific & Applied Research Center, Meerut; Shatabdi Samman by Vignan Parishad Prayag; Outstanding scientist in Agriculture by Scientific & Applied Research Center in Kasetsart University, Thailand; Outstanding Scientist in Agriculture by Scientific & Applied Research Centre, Meerut and Nanyang Technological University, Singapore to name a few. Of his many achievements, Prof. Shukla is best known for introducing and developing high yielding six varieties of soybean in Uttarakhand. He held a number of administrative positions in addition to his work as a teacher and researcher, including BOM at the JNKVV in Jabalpur, DSW and Chairman of the Admission Committee at the MGCGV, Chitrakoot. During his tenure as General Manager at the UKS & TDC in Haldi, Pantnagar, the Organization saw a significant rise in profit to the tune of Rs.11.92 crores. He also served as the Joint Director, Breeder Seed Production Centre in G. B. Pant University. Prof. Shukla has served as EC & Court Member, JNU,New Delhi. He has guided more than 20 Masters students and 6 PhD scholars.
In addition to strengthening the links between education and research in his previous roles, Professor Shukla has led large change programmes, worked to further equality, diversity and inclusion and is a strong proponent of driving the digital and online learning agenda. He has a clear vision for how research and education should work in tandem in a Central university with strong civic roots. Among other responsibilities, Prof. Shukla is the Chair of the University's principal academic body, the Court and the University Executive Council.