New NEHU VC takes charge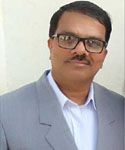 Prof. Prabha Shankar Shukla has taken over charge of the office of the Vice-Chancellor, North-Eastern Hill University on 27th July, 2021 afternoon. Prof. Shukla took over the office of the Vice-Chancellor from the outgoing Vice-Chancellor, Prof. S.K. Srivastava in accordance with the provision laid down under Statute 2(A) (1) of NEHU Act 1973 and as conveyed by the Ministry of Education, Govt of India vide letter F.No.12-4/2020-CU.IV dated 22.07.2021.
Prof. Shukla arrived at the campus in the afternoon and was received by the Registrar. Thereafter, Prof. Shukla was felicitated by the outgoing Vice-Chancellor in the presence of staff of the VC office.