'POSHAN' Webinar organised at North-Eastern Hill University, Shillong sponsored by National Commission for Women held on 29th September 2021.
Date: 06/10/2021
A webinar on "POSHAN" was held in the webinar hall of the UGC-HRDC centre, NEHU on 29th September 2021 from 9.30 Am onwards which had participation of 119 students from different schools of Shillong, Meghalaya.
The programme started with the welcome address by Prof. S.R. Joshi, the coordinator of the webinar. He briefed the participants about 'POSHAN Abhiyaan' as a flagship programme of Govt. of India and gave an introduction about the National Commission for Women (NCW) which was set up as statutory body in January 1992 under the National Commission for Women Act, 1990 to review the Constitutional and Legal safeguards for women ; recommend remedial legislative measures ; facilitate redressal of grievances and advise the Government on all policy matters affecting women.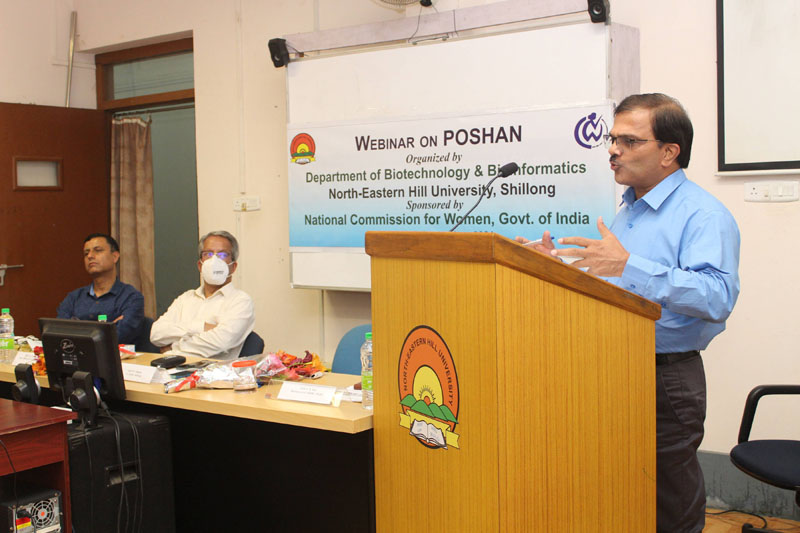 The NCW, as the apex national level organization of India has the mandate of protecting and promoting the interests of women. In keeping with its mandate, the Commission initiated various steps to improve the status of women and works for their economic empowerment. It takes up the issue of child marriage, sponsors legal awareness programmes, Parivarik Mahila Lok Adalats and reviews laws such as Dowry Prohibition Act, 1961, Pre-Conception & Pre-Natal Diagnostic Techniques Act,(PNDT) 1994, Indian Penal Code 1860 and the National Commission for Women Act, 1990 to make them more stringent and effective. It organizes workshops / consultations/ seminars for gender awareness and undertakes publicity campaign against female foeticide, violence against women etc. in order to generate awareness in the society against these social evils. Prof. S.R. Joshi also briefed the participants about The Prime Minister's Overarching Scheme for Holistic Nourishment (POSHAN Abhiyaan), or the National Nutrition Mission, which is the Government of India's flagship programme to improve nutritional outcomes for children, pregnant women and lactating mothers. Launched by Hon'ble Prime Minister Shri Narendra Modi on the occasion of International Women's Day 2018, the POSHAN Abhiyaan directs the attention of the country towards the problem of malnutrition and addresses it in a mission-mode.
After the introductory speech, Prof. S.R. Rao, the Director of UGC-HRDC spoke about nutrition and how it needs to be balanced right from childhood.
Prof. N.K. Chrungoo, Dean of School of Life Sciences, NEHU, Shillong who was he Guest of Honour in the Inaugural programme spoke on functional foods and underutilized crops for nutritional supplementation.
The Chief Guest, Prof. P. S. Shukla, Vice-Chancellor, North-Eastern Hill University, Shillong, in his inaugural speech narrated how India had to import food grains from western countries during the Independence period and today, India is proud to be self-sufficient in food production. He attributed the success to the committed agriculture scientists and agriculture institutions for their dedicated research for crop improvement and productivity. He underlined the fact that the junk foods are the cause of many abnormalities as visible in health conditions of westerners. He advised the participating students to choose organic foods and look for supplements from dietary foods and not from prescribed medicines. The Inaugural session ended with the vote of thanks [proposed by Prof. S.R. Joshi.
The lecture session started with the first lecture delivered by Prof. N. K. Chrungoo, Dean, School of Life Sciences and Professor of Botany at NEHU, Shillong, on the topic "Agri-biodiversity in food security and social change". He presented a comprehensive detail on the agri-biodiversity, food security, food habits, malnutrition and how balanced nutrition is important especially for pregnant mothers. He presented the diet plan that one needs to adopt to its proximity on a daily basis if not to the exact prescribed plan. He said that the morning diet should begin with milk and end the day with milk, with the intermittent intake of listed ingredients as regular meals in the day.
Prof. Ramesh Sharma, Professor of Biochemistry at NEHU, Shillong talked on the topic " Nutrition and its role in human health and longevity" where he emphasized how improper and overnutrition can be harmful and leads to malnutrition. He underlined the fact that moderate nutrition is always advisable as compared to over-nutrition or under-nutrition. His talk was full of illustration to bring out the point to its clarity amongst the participating students. He also talked about how aging and nutrition are interrelated.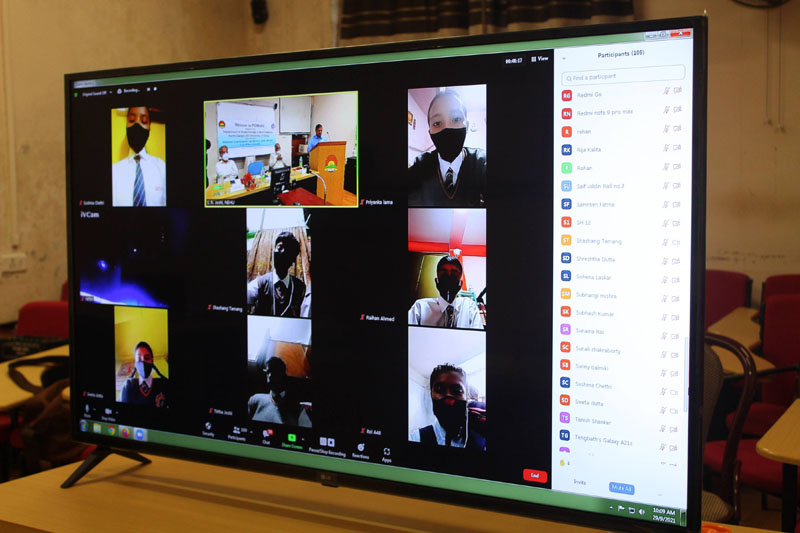 Dr Natasha Marak, Assistant Professor of Food Science and Nutrition at Central Agriculture University at Tura Campus, Meghalaya was the final speaker in the webinar who spoke on "Covid-19 and Nutrition". She presented an overview of dietary routine necessary for growing children. She talked about probiotics and prebiotics and how they influence the balance of human gut microorganisms and health conditions of an individual. She gave an illustrated list of vitamins and micronutrients, and their source in our foods and how they can be acquired by adopting proper diet composition to improve our immune system. The lectures were followed by interactive session. The programme ended with a summary and vote of thanks proposed by Prof. S.R. Joshi.