Transfer of Technology Program of LAMP PCR and Rapid Lateral Flow Kit for Brucella held between CIIMS and NEHU
Date: 27/10/2021
Central India Institute of Medical Sciences (CIIMS) and North Eastern Hill University (NEHU) has been working on the project entitled "Screening of human Brucellosis infection in Northeast regions using point of care Immunological and Molecular Tools" from the last 3.6 years. This project was funded under the scheme of Department of Biotechnology, Government of India (DBT-NERBPMC). During the project, the research teams of both the institutes studied the prevalence of Brucella in East Khasi Hills and Ri Bhoi District population. This is the first study of its kind in this part of the world.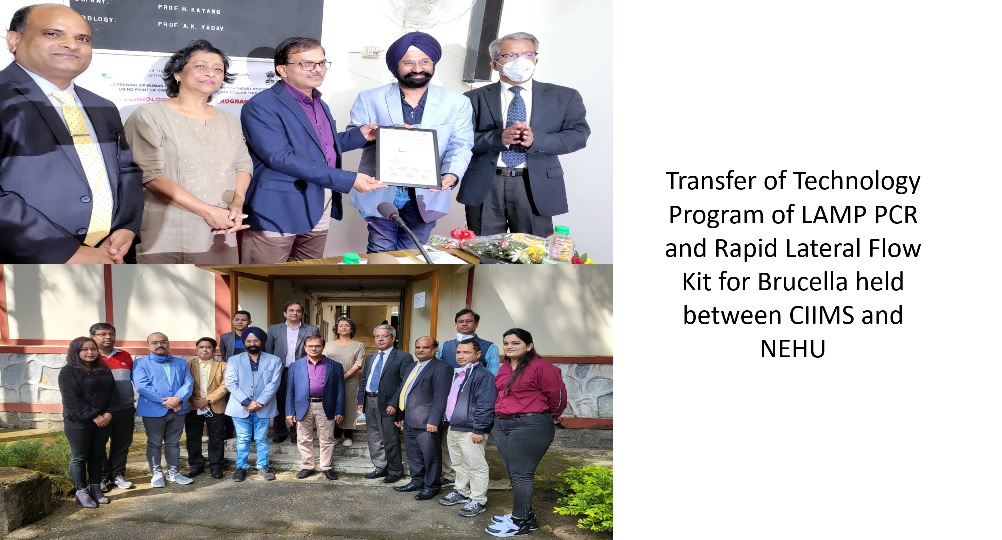 The technology transfer ceremony was held on the 27th of October, 2021 at NEHU, in the gracious presence of the Hon'ble Vice-Chancellor, Prof. Prabha Shankar Shukla; the Dean of School of Life Sciences, Prof. N K Chrungoo; the Head of Biochemistry Department Prof. M B Syiem; Dr. Surya Bhan, Asst. Prof in the Department of Biochemistry and Principal Investigator and Dr. Rajpal Singh Kashyap, Director Research, CIIMS, Nagpur and Principal Investigator of the DBT-Twinning Project.
We were also graced by the presence of Dr. Nitin Sahai, Asst. Prof in the Department of Biomedical Engineering; Dr. Manasjit Gogoi, Asst. Prof in the Department of Biomedical Engineering; Dr. Aliabbas Hussain, Research Scientist, CIIMS, Nagpur, all of which are the Co-Principal Investigators of the project; Miss Jayshree Shukla (JRF), Miss Samantha A Lyngdoh Nongbri (JRF) and Mr. Flavius P Nonglang (Research Asst.).
CIIMS, Nagpur developed the LAMP PCR and a Rapid Lateral Flow Kit, a point of care, cost effective and simple tests for the early diagnosis of Brucellosis. The developed LAMP PCR molecular tool is a kind of PCR technique without the need of a machine and thus, can be useful in different fields of work and low research settings as indicated by Dr. Rajpal Singh Kashyap. The Vice-Chancellor of NEHU, Prof. Prabha Shankar Shukla appreciated the collaborative work and congratulated both the research teams for the excellent research outcome. He also mentioned that he will support this kind of research collaboration in the future that can lead to the development of technology which will ultimately be useful to the society.