The University Observed World Diabetes Day, 2017
Date: 14/11/2017
Sounding the Alarm on Diabetes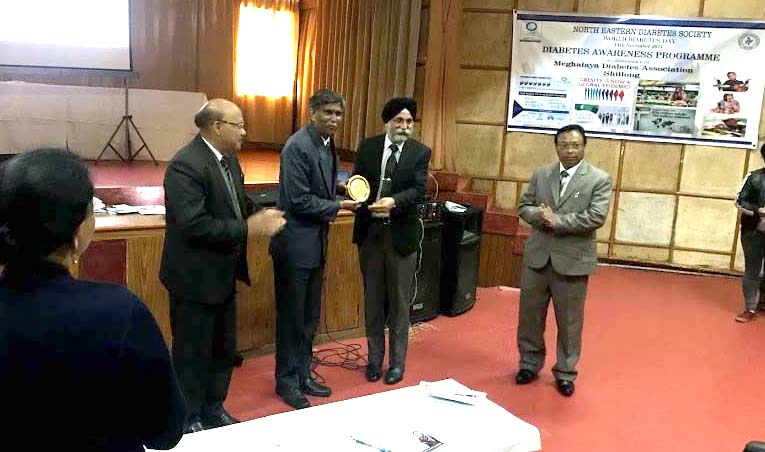 World Diabetes Day was observed at NEHU in the form of an awareness program for university students, faculty and staff on November 14, 2017. The program was organised by the NEHU Health Centre in association with Meghalaya Diabetes Association and North East Diabetes Society.
Inaugurating the event as the chief guest on the occasion, Professor S.K. Srivastava, Vice-Chancellor, NEHU remarked on the fact that the day coincides with Children's Day, and as the children are the future, it is important that they grow up healthy. Prof. Srivastava appreciated the initiative shown by the Health Centre led by Dr. C. Mukhim to organize the program in NEHU, and hoped that that in future, camps or Diabetes Day run could also be organized to further spread awareness about this disease. Quoting The Shillong Times report dated February 28, 2017, on the number of people suffering from diabetes in Meghalaya, Prof. Srivastava said more than one lakh are suffering from diabetes in the state, which he feels is a huge number. "If taken by percentage, it would mean around 4 to 5 per cent," he said adding that he is glad that NEHU has been chosen by MDA and NEDS to make "our friends especially our students aware of this insidious disease."
Following the Vice-Chancellor's speech there was an eye-opening talk and presentation on 'Diabetes and its Complications' by Dr. D. S. Sethi, president of MDA. With the help of slides which were simple enough that even a lay person could understand, Dr. Sethi, who is a Cardiologist and Diabetologist in Shillong with 31 years of experience in these fields, explained what is diabetes, its causes, symptoms and complications. He also debunked some myths or perceptions about the disease namely that it affects only the rich or those who live in cities. Dr. Sethi said every 7 seconds someone somewhere in this world dies of diabetes and its growing very rapidly and particularly in India and the sub-continent. "India is now the diabetes capital of the world and unlike our perceptions where possibly it affects only the rich or people who are in cities, the truth that is uncovered is different. Diabetes is growing more rapidly in smaller towns as it affects the poor the most who cannot afford healthy diet."
Terming the disease as a very expensive one, Dr. Sethi said over the last 30 years he noted a gradual increase in diabetes among the university employees resulting in a big financial burden to the institution and loss of man days. "So we are utilizing scarce resources which could have been used much more productively," he added.
Coming to the disease, Dr. Sethi informed that it is a long standing disease characterized by high sugar (glucose) levels in the blood. "When there is excess it leads to spillage of blood glucose in the urine. Glucose is the nutrient that provides energy for the proper function of the body cells just like fuel is essential for a car to run." In a person suffering from diabetes, either no insulin is produced or there is insufficient supply of insulin, Dr. Sethi said while explaining that insulin (a hormone secreted by the pancreas) is needed for glucose to enter the cells of the body where it is utilized. "It is as if insulin is a key which opens the doors of the cell to allow glucose to enter."
He went on to list the disease as Type I where there is deficiency of insulin (these constitute 0.5 per cent) and Type 2 where there is an insulin resistance. The latter accounts for 99 per cent of diabetes cases.
Dr. Sethi also listed the symptoms of diabetes which include excessive thirst, hunger, frequent urination, weight loss, tiredness, blurred vision and wounds that take longer to heal.
"So who gets diabetes? As of today, any age, gender and race. Being Asian is itself a risk factor and being an Indian is a much greater factor for many reasons which are out of the scope of this lecture," Dr. Sethi said adding that 30 per cent of the population (not counting the rural population) is either diabetic or pre-diabetic. "We're lucky that it's still in the growth stage here, around 3-5 percent. But we will catch up soon if we do not take care of ourselves," he warned.
Dr. Sethi revealed an important fact about diabetes which is a "trigger" that results in diabetes and that trigger is our lifestyle. "Eating high calorie food like junk food, not exercising, obesity and stress are some of the trigger-pulling effects which land you into diabetes," he informed.
Dr. Sethi also listed the complications that result from the disease. "People wait till complications occur which strikes mainly the eyes, kidneys, heart and nerves before they see a doctor. In India this is a leading cause of kidney transplantation and a leading cause in patients undergoing dialysis. About 30 to 40 per cent of patients get kidney disease," the doctor informed. "Anyone inflicted by diabetes has 25 times more chances of going blind, 5 times more prone to gangrene, 17 times more prone to kidney disease and 90 times more prone to neuropathy. Risks of so many illnesses rises and these are all silent killers," Dr. Sethi warned.
Coming to the control or management of diabetes, Dr. Sethi said cutting out all processed food and food rich in carbohydrate is essential. Another important nugget he revealed is that our eating habits are "programmed" when we were in our mother's womb. "So if your mother eats pasta, your digestive system and pancreas is designed to digest and absorb pasta," he said adding that there is nothing wrong in enjoying food which is not programmed in us once in a while. "But you cannot make it your staple food. It is very important that you stick to your traditional diet on a daily basis," Dr. Sethi said.
He also had some advice for the students, which is to utilize what the campus has to offer, to take care of their health, not to smoke and to exercise regularly. Expressing confidence in NEHU health centre, Dr. Sethi said he is confident that the centre will take up steps to educate about the disease with the help of regular programs. He also urged the NEHU administration to encourage good food habits. "We have to have some administrative shakeups by which you encourage people to have fruits, fruit juices, or milk in the campus. You could also organize food festivals celebrating the local and traditional food of the people to ensure that nutritious food is being encouraged," he concluded.
In her presentation on Dietary Management of Diabetes, dietician and consultant of Hope Clinic, Shillong, Sagarika Dey explained that while there is no one diet that would suit all as everyone is different, it should be a healthy and enjoyable one suitable for the entire family. "Learning what you can eat and how different foods affect your body is important," she said adding that food choices have a very significant impact on one's glucose, cholesterol, blood pressure and overall health. In short a balanced diet rich in fibre and restriction of oil, carbohydrates and sugar is advisable.
Dr. Milan Chettri, a physiotherapist spoke on lifestyle modifications which is nothing but an evidence based practice which helps individuals adopt sustain healthy behaviours that affect the quality of life. "It includes identification of risk factors, managing them through a combination of not only physical, medical and interventional therapy but even behavioural modification. Upto 80 per cent of our diseases, stroke and Type 2 diabetes could be prevented by preventing obesity, unhealthy diet and physical inactivity," he said. So what are the modifiable factors? "In medical conditions, hypertension, diabetes, obesity and cardiac diseases can be modified. And the behavioural we can do by controlling or giving up smoking, alcohol, physical inactivity, stress and unhealthy diets," he informed. To modify the risk factors, Dr. Chettri said quitting the sedentary lifestyle for a more active one could go a long way in keeping such diseases at bay.