NEHU holds first ever Deeksharamb
Date: 04/10/2019
The North Eastern Hill University organised its first every student induction programme titled "Deeksharamb" on September 30th, 2019 at the Convocation Hall. A total number of 1500 plus students were inducted into various programmes and courses for the batch 2019-2020.
Speaking on the occasion, former Union Public Service Commission (UPSC) chairman, Prof David R Syiemlieh said that this kind of induction event was not there in the university during his student's day.
"This student's induction day hopefully would be organised annually to welcome the fresh and young students to the university to take advantage of the facilities and to excel in the pursuit of knowledge," Prof Syiemlieh said.
He said the students are on the threshold of another exciting stage of their life in pursuit of higher studies and it will determine whether they become scholars, teachers, entrepreneurs and hopefully bureaucrats in the service of the country.
"Challenges and difficulties will always be there. But you need to have the perseverance and confident to overcome these with strength of will and dedication," he said.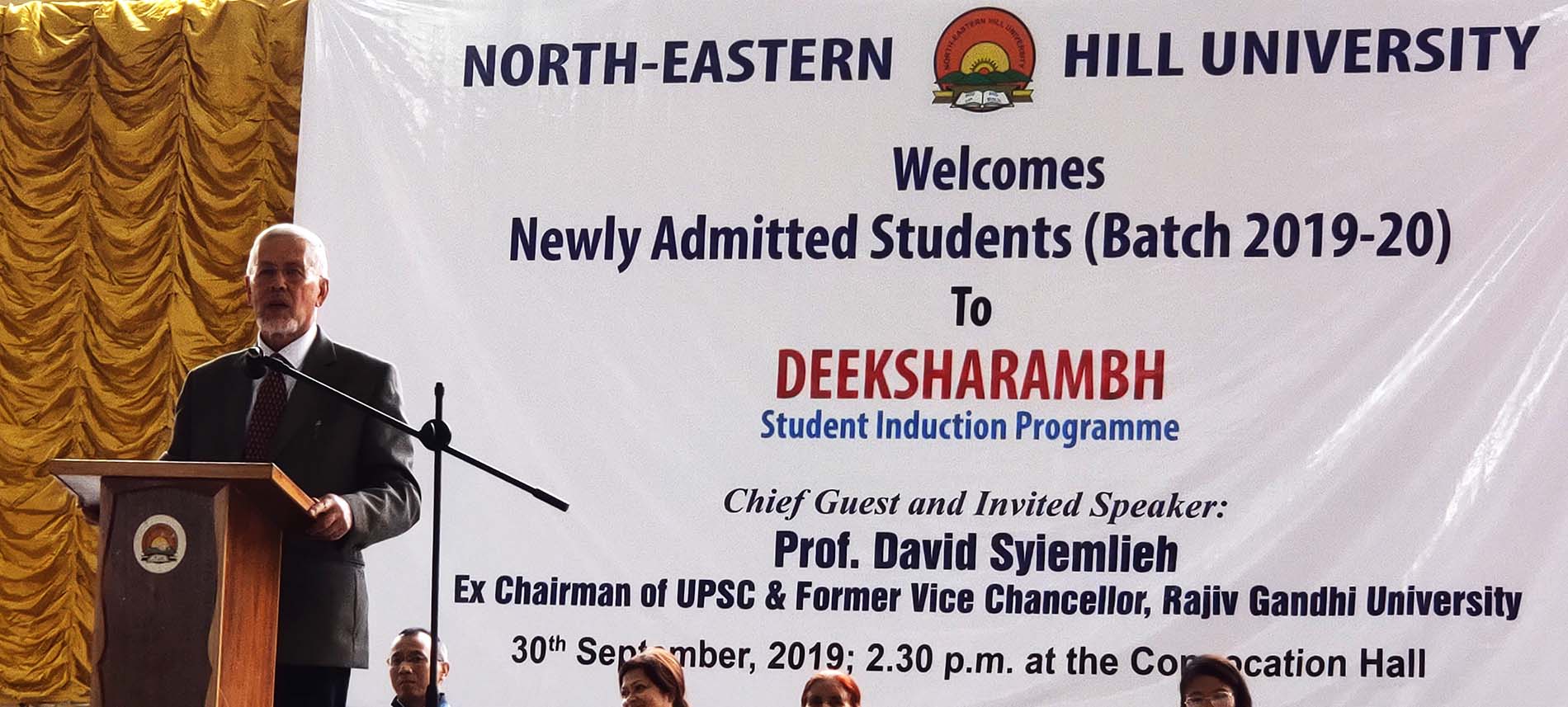 The former UPSC chairman said that as graduates, they are expected to lead by examples by being good citizens and above all be good human beings, live in harmony and keep the environment clean.
Earlier, Prof. J. N. Nayak, Registrar, NEHU gave the welcome address followed by a welcome song by the students of the Department of Cultural and Creative Studies, NEHU. Prof. C. S. Mawlong, Dean School of Social Sciences gave a brief introduction about NEHU. This was followed by a special announcement by Prof. S. Umdor, Dean of Student Welfare.
Meanwhile, Prof. H. Lamin, Pro-Vice-Chancellor presented the newly admitted students followed by a speech from Prof. S. K Srivastava, Vice-Chancellor, NEHU. The programme concluded with a vote of thanks by Prof. L.J. Singh, Provost.